This excerpt has been taken from "AARP Guide to Revitalizing your home Beautiful living for the second half of life Re-imagine, Redesign, Remodel Rosemary Bakker". Cabinets are the built-in furniture installed in many kitchens for storage of food, cooking equipment, and often silverware and dishes for table service. "Washington DC painters", provides you relevant information on these kitchen cabinets.
Cabinets
Most people never complain that their kitchen has too much storage space. It seems that no matter how much cabinet space you have, you'll eventually find a sufficient quantity of pots and cooking gadgets to fill it. It's also true that sometimes this storage space is useless because it's so difficult to reach. Here's a storage tip: place frequently used tableware, cookware, and food within easy reach and store everything else on higher shelves.
Cabinet height
In a universal kitchen, upper cabinets are hung on commercial brackets so that height adjustments can be made at later date. Isn't height is 18 to 24 inches ( 46 to 61 cm) from the counter-top, but a 15-inch ( 38 cm) height makes the second shelf easier to reach for a person of average height while still allowing ample room for counter-top appliances, such as microwaves, toasters, and most blenders.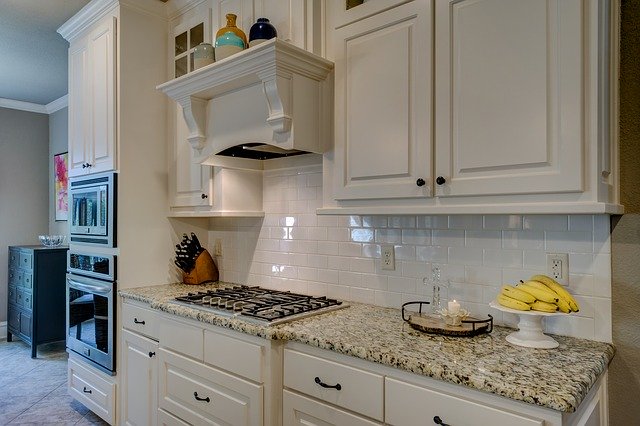 Cabinet design
If you're replacing your cabinets as part of your universal design update, keep accessibility as your main criterion, both in terms of the cabinets' design and the way they're mounted on the wall. There are many cabinet designs and arrangements that can fulfill this goal with style. In general, how-ever, frame-less cabinets provide more storage space for small kitchens.
Cabinet doors can be a mixture of wood and glass (making it easy to see what's on the shelves, or in some cases the doors are removed altogether, making it much easier to reach into the cabinets. This can also be aesthetically pleasing- but only if the cabinets showcase well- organized tableware. (If you choose the open option, you'll need an adequate range- hood fan to make sure grease from the kitchen air is removed and doesn't collect on the dishes). Another nice feature is touch magnetic latches that allow you to open cabinet doors using minimal strength. If you're using nonmagnetic latches, colorful C handles are the best choice because they are easy to grasp. Another practical option is a knife hinge; this allows cabinet doors to be folded back flush (at 1800), eliminating the need to duck when the doors are open.
Mobile shelving is a good choice, too: it's adaptable and brings hard- to –reach items to your fingertips. You can purchase pull-down shelving, available in 24- and 36- inch ( 61 and 91.5 cm) widths, for your upper cabinets. In your lower cabinets, pullout shelves and drawers on full extension glides, lazy Susans, and pop-up shelves for appliances can expand usable and reaching toward the back of the shelf.
Easy to go green Counter-tops & cabinets
Here are some Eco-friendly materials that make great cabinets and counter-tops. Because products can look very different in a showroom or in a magazine, it's always a good idea to request samples to see how well they work with your other finishes- under your actual kitchen lighting.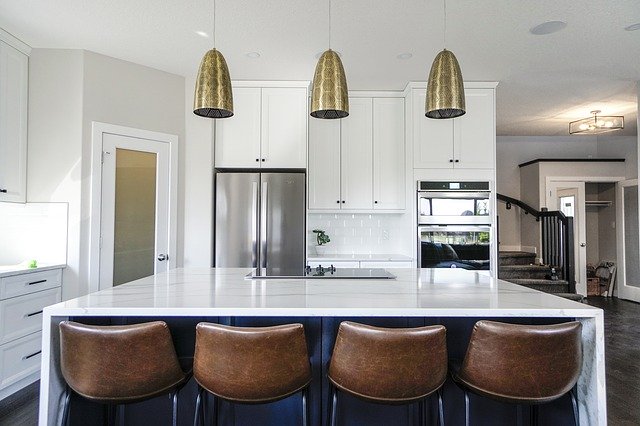 Cabinets
Choose formaldehyde-free particleboard or fiberboard, such as wheat-board panels, which is made from the remnants of the straw water left over from farmer's wheat crops, milled and bound together with formaldehyde-free binders. It's very strong, exceeding the set standards for particleboard in North America.
Use water-based paints, primers, adhesives, and finishes with either no-or low-volatile organic compounds (VOCs).
Choose woods from renewable sources, such as bamboo, or from recycled materials.
Look for the seal from the Forest Stewardship council (FSC), an active voice in green cabinetry.
Countertops
Use terrazzo-like recycled glass and concrete. They're durable, heat- resistant, and available in a wide array of colors. Currently, you can get terrazzo only in a high-gloss surface, but you can hire an outside workshop to refinish to reduce glare.
Choose a local stone-for example, quartz, slate, or granite.
Select a laminate made from recycled, formaldehyde-free products with low-emitting substrates, low-VOC glues, or mechanical fasteners.
Continue reading on Boost the Lighting